Speed to Lead: Boosting ROI Through Quick Response
Read time: 4 minutes
What's the longest amount of time you've waited for a server to notice you at a restaurant?
Everyone has an internal clock counting down to the point where they hangrily turn heel and head to another place.
Maybe for you it's half an hour (or more, if the craving is strong enough).
For your highest intent leads on your website, that number is only 5 minutes.
After raising their hand to contact you, whether through a form fill or a chatbot, the clock starts counting down – and dragging your odds of a sale down with it.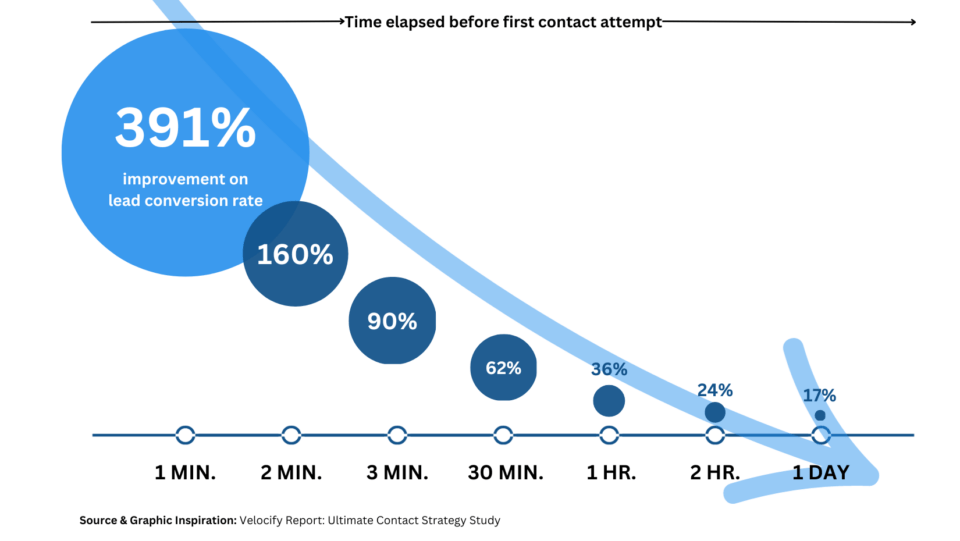 Faster Response Times Look Good for Your Brand
Remember, this lead is on your website sending a contact form or a chat message because:
They already know about you and your solution
They already have opinions about you
You're already one of their top choices
If this lead was any warmer, they'd be tapping on your office window. And it's possible that they're just a nudge away from buying.
In fact, studies have shown that you're 21x more likely to qualify a lead if you respond within 5 minutes of their inquiry.
Answer them in under a minute and your chances go up by a whopping 391%.
This is because they're trying to:
Confirm you can help them
Validate their opinions about you
Narrow down their choices
Your prospects want their problem to be solved. They want you to be the solution they need so that they can stop looking at options and start fixing their problem.
And if you're not around to help… your competitor is just a click away.
Research has shown that between 50% to 78% of customers go with the first vendor to respond to them.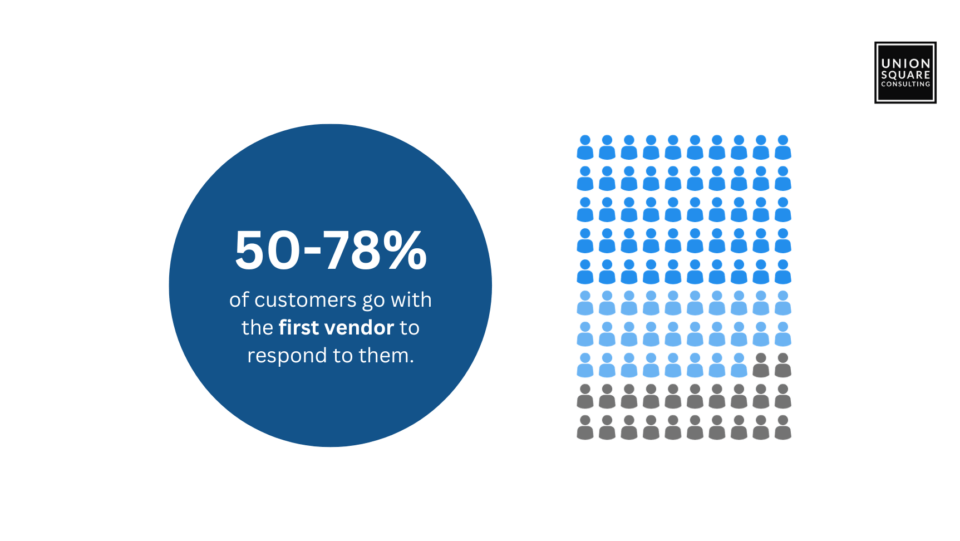 Luckily, improving your speed to lead is as straightforward as it is critical.
Differentiating Leads and Prioritizing Response Time
The first step to increasing your response efficiency is to differentiate between different types of leads. Here are three common examples:
Handraisers (those who actively express interest in meeting or learning more) should be given priority in the queue.
Price Page Regulars (those who have visited your pricing page three times) are also worth contacting immediately.
Standard leads (who have merely downloaded a whitepaper, for example) ara less urgent to follow up with, but should be nurtured by marketing.
Prioritizing your high intent leads (form fills, chat requests, price page regulars) over your standard leads (email opt-ins for content) will help your sales team focus on delivering lightning fast responses where it will matter most.
If you're interested in learning more about lead scoring and inbound vs. outbound, check out our podcast episode where we sit down with Channing Ferrer (previous Head of Sales and Strategy at Hubspot) to discuss the strategies that Hubspot used.
Strategies for Implementing Quick Follow-up
To achieve a consistently fast response time, it's important to establish a structured approach for handling leads.
Baked-In Process: This includes setting an aggressive Service Level Agreement (SLA) with your sales team, which is a commitment to respond within a specific timeframe.
Adequate Staffing: By having at least one staff member available during all business hours to handle inquiries, you can ensure that leads receive prompt attention.
Automation: As a backup, consider using an automated solution during off-hours to inform leads that their inquiry will be addressed first thing in the morning. Always follow through on these promises to maintain a positive customer experience.
Direct Booking: If necessary, use a tool like Calendly or Chili Piper to keep track of potential leads and schedule callbacks for the team, or allow a lead to book directly from your website.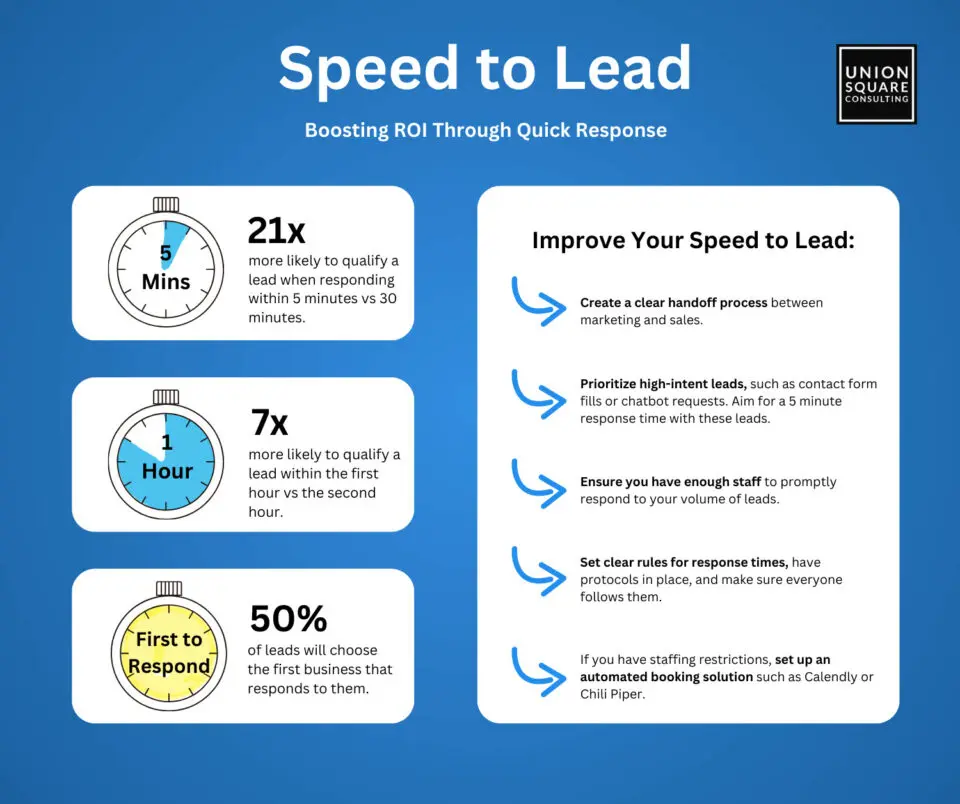 In Closing
However you decide to address speed to lead in your business, don't lose sight of the purpose: creating a better customer experience. There's only one chance to make a good first impression – beat the countdown and make it count.
TL;DR
The hand raisers on your website are your warmest leads
Respond to them within 5 minutes and be 21x more likely to qualify them
Increase your response times by:

Prioritizing form fills and chat requests
Setting expectations with your sales team
Ensuring you have enough staff to handle responses
Using automated email or booking solutions during off-hours
When you're ready, here's how we can help:
Get a Free 1:1 Revenue Efficiency Workshop
Get one of our Senior Revenue Strategists to yourself for 1 hour and leave with a plan to increase the money-making power of your go-to-market operations.
Hire Us!
Bring us on as your Strategic RevOps Team and realize the growth potential of your revenue engine. There are 3 ways to work with us.
Get more tips like these, sent right to your inbox.
Subscribe for fresh, relevant revenue growth tips delivered every week.