The Revenue Efficiency Pyramid
Read time: 6 minutes
Revenue Operations can be overwhelming. It can be hard to maintain our sanity and get the important work done.
We're often bombarded with urgent requests over multiple channels all day. We have an endless backlog of projects and initiatives. There are thousands of tools on the market with new ones coming out faster and faster. Every day presents new emergencies and fire drills.
How can we work more strategically and build a roadmap for the future? We get this question often. So, I wrote this article to give RevOps leaders, particularly those new to the role, a guide to follow.
I call it the Revenue Efficiency Pyramid.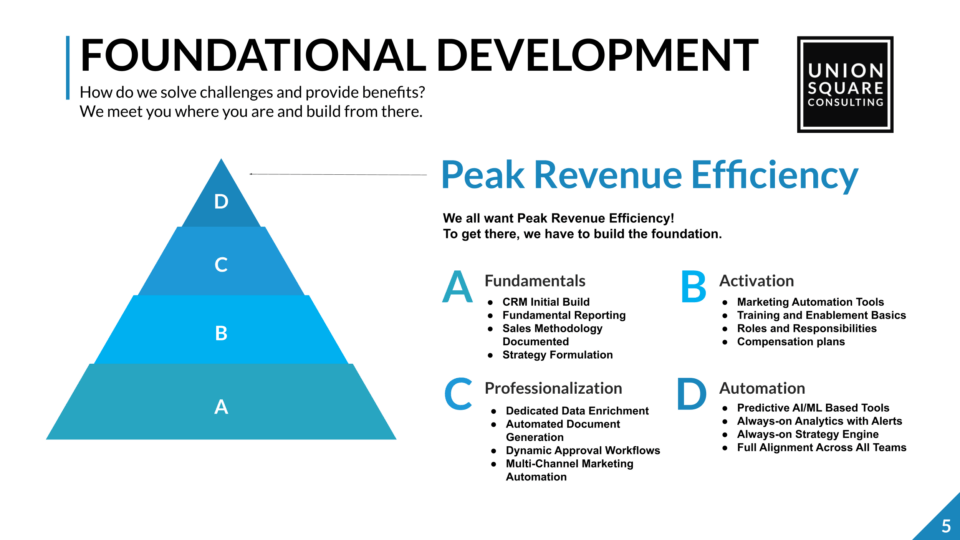 (The sub-bullets in the diagram are not anywhere near exhaustive)
Fundamentals
We start by building from the ground up. Our first step is to create enough space to do this. If you're fighting fires all day, build a system to triage and manage expectations. (I'll write further articles down the road that explain my suggested tactics there.)
Then, start to document what fundamentals you have in place today.
Here are some examples:
Do you have a defined Sales Methodology?
Have you documented the Vision or Strategy?
Do you have a CRM implemented and adopted?
Without this foundation, there is nothing to build upon.
Without a sales methodology, you have nothing to train salespeople. The stages in your CRM won't mean anything and you will not be able to trust your data. Without that, you can't manage your pipeline or forecast. Leadership will never get insight into the business.
If we have no set strategic direction, we don't know who to target, or how to position products. Many companies let each sales rep figure this out on their own. They spray and pray anyone with a pulse. They build pipeline that's not real. They drop prices to try and close any deal they can. The few customers they do bring in churn quickly. Finally, they leave. This is a very expensive way to build a sales team.
The key here is to agree on the fundamentals, document them, and build them. It shouldn't take too long and until they are in place, nothing else matters.
Activation
The next layer is Activation. In my experience, most companies fall into this category. This is where we are starting to build out a set of Revenue functions, but without any bells and whistles.
This is where we are establishing things like:
Training and Enablement
Compensation Plans
Marketing Automation tools
Again, none of these lists are exhaustive.
This is simply the stage that comes once basics like a Sales Methodology are already in place. After that, the next logical step opens up training and onboarding for the first time. Likewise, having a CRM in place allows for the fast-follow of a marketing tool.
Building upon these fundamentals, you have the beginnings of a high-functioning revenue team. Your foundation is the Strategy, Vision and Methodology built into the CRM. Then you train the team on it, provide the right incentives, and layer on marketing.
Again, this is where most companies currently sit.
Professionalization
Taking things a step further becomes true Professionalization of the Revenue Team. In this stage we create more specialized roles. People pick up items that were never done before or were a minor part of someone else's job. Now we have focus to make the organization more professional and more effective.
We could also call this stage "operational leverage" because that is the aim here. One key piece of this stage is Data Enrichment. Establish this function as soon as your maturity model makes sense.
This doesn't mean just giving your reps access to ZoomInfo, though. It means hiring people to spend time enriching your data in the way that makes the most sense for your team. I have hired part-timers, college students, and offshore resources in lower-cost countries. There are many options and it depends on your needs.
Regardless, sales and marketing are far more effective with the right targets. A fully fleshed-out and prioritized account list is extremely powerful. You can do this without a lot of effort or cost. Your most expensive employees are on your Revenue Team. The amount of time saved and improvements to conversion rates provide incredible ROI.
Automation
With the above in place, we're finally ready for "Automation." There are some very interesting plays one could run here.
Some of my favorites are:
Set up alerts for different events and metrics
Build a strategy engine for your Product, Strategy, and Marketing teams
Predictive AI-based tools for forecasting
I won't go into all these, but this is the stage with all of the "shiny objects."
Unfortunately, most of this doesn't work unless you've done all of the items leading up to this stage. For example, most AI tools need accurate data you can trust. Without it, they can't learn your business and turn that data into predictions. If your sales reps don't apply a consistent approach to selling, you won't be able to trust your data. If you aren't training people, then they won't have a consistent approach to selling. If you don't have a documented Sales Methodology, then you have nothing to train them on.
Most organizations will have some aspects of each of these levels covered. Yet, there's one important thing to understand. Missing Fundamentals will hold you back in the Professionalization or Automation stages. Document where you are now. Then, focus on foundational items before shiny new things.
Common sense isn't common practice. This pyramid is simple enough. But make sure to spend a little time comparing it to your current sales, marketing and CS engine. You'll probably find a few easy wins. You take things for granted, they aren't written down, and that is low-hanging fruit all over the place.
SUMMARY
1. Start with the Fundamentals, such as:
Defining your Vision and Strategy
Documenting your Sales Methodology
Implementing and adopting your CRM
2. Get Activation of the above, such as:
Training the team
Building Compensation Plans
Adding Marketing Automation tools
3. Professionalize the system
Build "operational leverage"
Create the right specialized roles
Dedicate resources to Data Enrichment
4. Introduce Automation such as:
Alerts for events and metrics
Building a Strategy Engine
Predictive AI Forecasting
Automation is the shiny object we all want, but it isn't realistic without the foundation.
It all goes back to basics, every single time.
When you're ready, here's how we can help:
Get a Free 1:1 Revenue Efficiency Workshop
Get one of our Senior Revenue Strategists to yourself for 1 hour and leave with a plan to increase the money-making power of your go-to-market operations.
Hire Us!
Bring us on as your Strategic RevOps Team and realize the growth potential of your revenue engine. There are 3 ways to work with us.
Get more tips like these, sent right to your inbox.
Subscribe for fresh, relevant revenue growth tips delivered every week.